| | |
| --- | --- |
| | Hotline: Europe: 00-800-24-26-80-80 | USA: 1-800-866-6008 | Global Contact |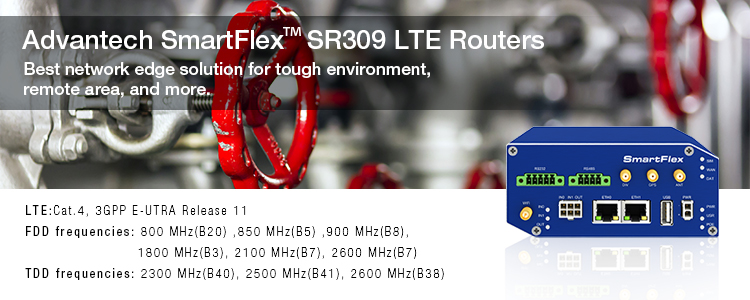 Transformative

Up to 5 Ethernet ports with 3 independent LANs/IP address
1 USB host port, 1 microSD card holder, 2 SIM card holders,
2 binary inputs (I/O), 1 binary output (I/O)
Optional Wi-Fi module

Remote Control

Remote configuration and firmware upgrade
Simultaneous mass reconfiguration of all routers on the network

Software Feature

Real time data encryption and creation of VPN tunnels using IPsec, OpevVPN PPTP and L2TP.
Supports DHCP, NAT, NAT-T, DynDNS, NTP, VRRP, controlled by SMS
Additional management software available like SmartWorx HUB and R-SeeNet.
The SmartFlexTM SR309 cellular router provides secure Internet connectivity for devices and LANs via the cellular networks. It can be used to provide automatic wireless failover for wired networks, wireless connectivity for devices in remote locations where cable connections are impractical, and wireless connectivity for mobile assets.
View Online

Advantech cellular router is placed in boiler room and is hard connected to temperature and pressure sensors via serial connections.
The cellular router collects data and forwards it over the air through 3G/4G carrier service to the control center.
The control center, being responsible for monitoring multiple boiler sites, receives data sent from cellular routers, converts the raw data into useful operation status and displays it in a visualized format on a dashboard.
The system in the control room allows for remote monitoring, remote setting, and alarm notification. When the temperature or pressure value exceeds the threshold, the staff can be notified and take proper reactions.

SR309
Powerful CPU and enhanced memory to support high demand customer applications
Extended operational temperature range from -40 °C to +75 °C
10-60 VDC operated with transient and reverse polarity voltage protection
Flexible port options, such as 3-port Switch, Ethernet and RS232/422/485 serial ports with isolation
GPS, GLONASS ,BeiDou, Galileo and QZSS support
MicroSD card holder, In/Out, USB host
Low power consumption mode for solar and battery power applications
Optional industrial grade Wi-Fi
Optional PoE PSE or PoE PD on ETH0 and ETH1
Advanced security features

Download Datasheet

View Online

Buy Online
● Free 5-year warranty for all industrial communication products
● Lifetime sales support
● Highly qualified application support engineers